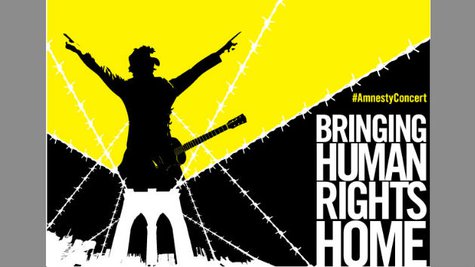 Amnesty International is bringing back its Human Rights Concert series next month, and the organization has tapped some of the biggest names in rock to perform at the event.
Dubbed Bringing Human Rights Home , the musical extravaganza will feature sets by Imagine Dragons , The Flaming Lips , CAKE , Tegan and Sara and Cold War Kids . The show also includes performances by R&B singer/songwriter Ms. Lauryn Hill and pop stars The Fray and Colbie Caillat .
"Amnesty's past concerts have featured some of the greatest artists of our generation and have been catalysts for real, measurable change," says Imagine Dragons frontman Dan Reynolds . "It's an honor to perform as part of this event and continue the cause of championing human rights around the world."
Bringing Human Rights Home will take place on February 5 at the Barclays Center in Brooklyn, NY. Tickets for the show will go on sale on Saturday via Ticketmaster. Visit AmnestyUSA.org for more information.
Since 1986, Amnesty International has held 28 editions of its Human Rights Concert series around the globe to raise awareness about human rights. Artists who have taken part in previous installments of the series include U2 , Radiohead , Led Zeppelin 's Robert Plant and Jimmy Page , and Alanis Morissette .
Copyright 2014 ABC News Radio