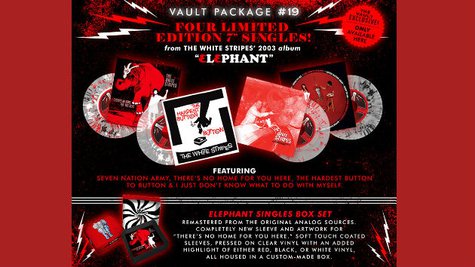 Here's a big reason to become a member of Jack White 's Third Man Records subscription series, The Vault. The 19th installment of the series will include a number of limited edition, colored seven-inch vinyl pressings of cuts from The White Stripes .
The package features remastered versions of "Seven Nation Army," "I Just Don't Know What to Do With Myself," "The Hardest Button to Button," and "There's No Home for You Here," all from 2003's Elephant . In addition, the set includes a live medley of the Stripes performing "I Fought Piranhas" and "Let's Build a Home," as well as a number of B-sides by artists who were active in White's hometown of Detroit in 2003.
Vault package #19 will be available to all subscribing members until January 31. If you miss out on getting the set, the singles are expected to be released individually on black vinyl sometime later this year.
Copyright 2014 ABC News Radio