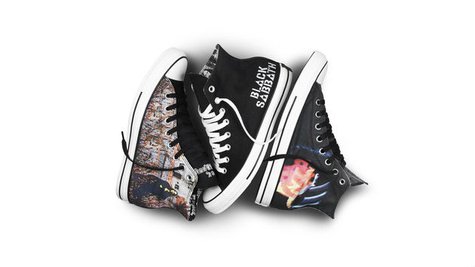 Black Sabbath has partnered with the Converse company to introduce a new line of Chuck Taylor sneakers featuring artwork from four of the band's classic 1970s albums. Five different designs will be available, including high-top shoes featuring cover art and/or stylized wording from Black Sabbath's 1970 self-titled debut and their sophomore release, Paranoid, 1 972's Vol. 4 and 1978's Never Say Die! There will also be a low-top Oxford-style sneaker boasting Vol. 4 graphics.
The Black Sabbath Chuck Taylor also features the band's name on the tongue and in the shoe's lining, in the same font in which it appears on the album cover. The Paranoid sneaker has a corresponding Sabbath logo on its tongue as well, and also features a lining with images from the band's live "Paranoid" video from a 1970 Belgian TV show.
The Never Say Die! Chuck Taylor features the Black Sabbath name, as it appears on that album, located on the outer heel, and a lining boasting a black-and-white photo of the band members. The Vol. 4 high-top and Oxford both feature the album's title embroidered into the shoe's tongue and a liner that boasts the photo of Ozzy Osbourne that appears on the record's cover.
The new Black Sabbath sneakers cost between $60 and $70, and will be available at select Journeys and independent shoe stores, Converse outlets and at Converse.com. Black Sabbath previously teamed with Converse for another line of Chuck Taylors back in 2008.
Copyright 2014 ABC News Radio