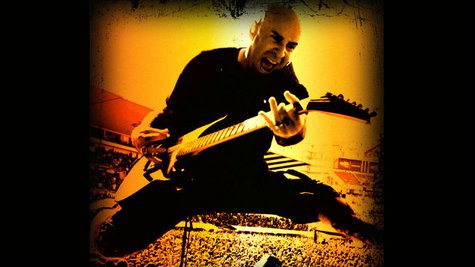 We won't have to wait too long for a new album from Anthrax . Guitarist Scott Ian says the guys have written more than enough material for their follow-up to 2011's Worship Music , and are itching to get into the studio to record the new stuff.
"We're sitting here right now with 12 songs musically arranged and really focusing on lyrics now," he tells Metal Insider . "I like to think at the pace we're going we would be ready to start recording maybe in April. I think we've got all our bases covered and we're ready."
Ian adds the group's chemistry is stronger than ever, especially since they had such a good time making Worship Music . "We were all really excited about getting back in a room and writing songs together, and it was the first time in a really long time that we weren't going into writing a record coming off a really s**tty time," he notes. "So for us to have come off such a great run with Worship Music , we were all really excited about it and I think it really shows in the music."
Before Ian hits the studio, he'll be hitting the stage at a number of venues around the U.S. for his one-man Speaking Words tour, in which the guitarist will tell stories about his life and times with Anthrax. That outing begins on February 20 at Maynestage in Chicago, IL. Visit Scott-Ian.com for the full itinerary.
Copyright 2014 ABC News Radio