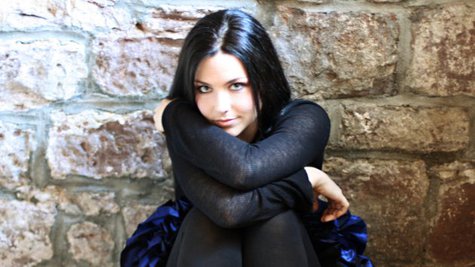 Back in November, Amy Lee debuted a new song titled "Find a Way" during a benefit concert for Wellspring House at Shalin Liu Performance Center in Rockport, MA. While the Evanescence frontwoman didn't think much about unleashing the new cut on the crowd, fan-filmed videos of her performance have gone viral, and she says she's thrilled by the positive response.
"I originally wrote that for another film, and I love it," she tells MTV . "The acoustic version we recorded isn't the full idea, but I think it's beautiful, and I was excited to show it to my friends at the Wellspring concert, which had a real living-room environment, and I've been overwhelmed by the YouTube response too."
Lee adds she has no idea if a studio version of "Find a Way" will ever be released, noting her band mates in Evanescence are currently "doing our own things for now."
We'll get to hear new material from Lee when the upcoming independent film War Story gets released. The flick features new music she created with composer Dave Eggar , which includes an electronic track titled "Push the Button." War Story will premiere at the annual Sundance Film Festival later this month.
Copyright 2014 ABC News Radio