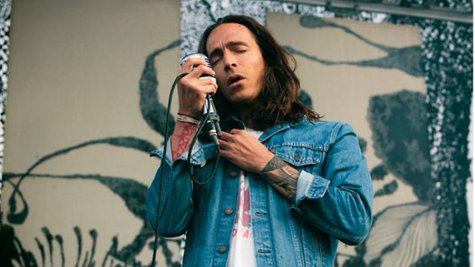 Brandon Boyd will be taking his side project Sons of the Sea out on the road later this month, and he has a pretty good idea of what he'll be performing. The Incubus frontman says fans can expect the singer, who will be backed by a full band for the outing, to perform more than just the cuts from Sons of the Sea 2013's self-titled debut album.
"There's 10 songs on [the Sons of the Sea ] record, but then I put out a proper solo record a couple years ago called The Wild Trapeze and it's under my name," he tells ABC News Radio. "So technically speaking there are 20 songs to choose from which is kind of a set. I love playing other people's music too, so don't be surprised if you hear other people's songs."
While Boyd is looking forward to the tour, he doesn't expect to be out on the road for very long. "I don't want to hit it as hard as Incubus hits it on tour. We go on tour for like a year and a half," he notes. "We'll start with two or three weeks and see how it goes, and if it goes well then keep going and you know maybe take it to different countries as well."
Once the tour is over, you shouldn't expect Boyd to work on new material with Incubus. The singer says he doesn't have a timetable for the group's follow-up to 2011's If Not Now, When? , noting that the guys will get together whenever they feel the time is right.
"We can just go in there and churn out albums like a factory, but then it's gonna start to sound probably over-produced or mass-produced and that's not art to me," he explains. "I would love to remain in that kind of artistic sentiment that we're presenting things as they arrive, and so sometimes there'll be large gaps of time in between there. Sometimes it'll be small gaps of time if we're feeling particularly inspired."
Boyd's Sons of the Sea tour kicks off on January 27 at the 9:30 club in Washington D.C. Visit BrandonBoyd.me for the full itinerary.
Copyright 2014 ABC News Radio