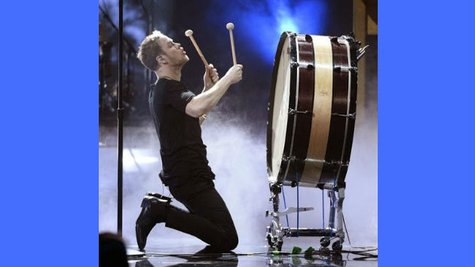 Imagine Dragons has been busy working on new material while they've been on the road promoting their debut album, Night Visions . Frontman Dan Reynolds says that each member of the band has been stockpiling a variety of ideas for the group's sophomore release.
"All of us are writing, so we definitely have a lot of demos," he tells MTV . "The most important thing to us is that we put out an album that we're really happy with."
Even though the guys have more than enough material for their sophomore effort, he notes it may be a while before the band heads into the studio to lay down the tracks. "We tend to be perfectionists, too hard on ourselves at times, and we don't want to rush anything because we know how we are with things," he explains. "We don't want to put a record out until we really feel good about it…and who knows how long that will take."
The next big thing for Imagine Dragons will be their performance at this year's Grammy Awards with rapper Kendrick Lamar . The ceremony airs on CBS on Sunday, January 26, and will also feature collaborations between Metallica and pianist Lang Lang , Daft Punk and Stevie Wonder , fun. frontman Nate Ruess and Pink , as well as a separate performance by Lorde .
Copyright 2014 ABC News Radio