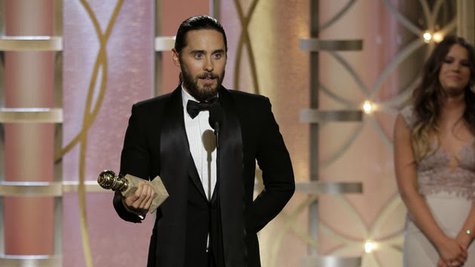 On Sunday, Jared Leto took home the Golden Globe Award for Best Performance by an Actor in a Supporting Role in a Motion Picture for his role as a transgendered woman in Dallas Buyer's Club . The 30 Seconds to Mars frontman says balancing his time between working on music and film projects is a juggling act he's very comfortable with.
"Jared Leto the musician doesn't put on heels and a wig to go to work, although I could probably get away with it," he told members of the press backstage at the event. "They're wonderful things to do, both of those things and I'm a creative person. I spend time behind the camera directing, I love film, I love music, so all of it's wonderful. It's a really good thing to do with your life. I recommend it."
While he's enjoying having a busy schedule, Leto adds he's not sure if he'll continue working in both fields in the future. "If I projected myself in 20 years, I don't know if I'll be doing either," he reveals. "I think it's a big world out there, there's lots to explore. If I'm so lucky to continue to be able to have these creative experiences, I'll consider myself a very fortune person."
Leto is likely to get more praise for his work Dallas Buyer's Club : the singer is a strong candidate to score a nomination for the 86th Academy Awards. Nominations will be revealed on Thursday.
Copyright 2014 ABC News Radio