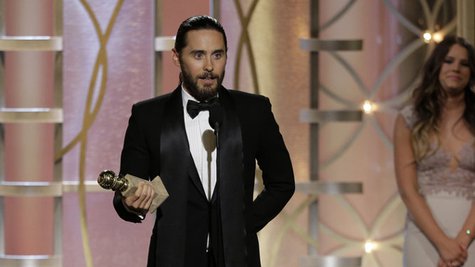 Rock stars had a great night at the 71st Annual Golden Globes, handed out Sunday night in Beverly Hills. Not only did U2 take home the trophy for best original song for "Ordinary Love," but 30 Second to Mars frontman Jared Leto was named best supporting actor in a drama for his role as a transgendered woman in Dallas Buyer's Club .
Onstage, a clearly surprised Leto called his win "incredible," noting that he hadn't made a movie for six years. "I have to say it's more than an hour to come back and have this love and this support." Leto, who played a transgendered woman named Rayon in the film, joked onstage about having to wax his entire body for the role. He also denied using any prosthetics for the role, joking that "that little Brazilian bubble butt was all mine." Ending his speech, he thanked the "Rayons of the world for the inspiration."
Backstage, Leto told reporters that he was "thankful" and "grateful" and "moved" by his win, adding that he was "just really blown away." He also said he didn't want to "let anyone down" on the film because it had been so long since he had acted.
Meanwhile, U2 won for "Ordinary Love," the song they wrote for Mandela: Long Walk to Freedom . As Bono said onstage, "This was personal," given the band's long association with the late South African leader Nelson Mandela . "You know about the global statesman, you don't know about the man. That's why you should see this film," he added. Backstage, U2 bassist Adam Clayton gave thanks to Coldplay 's Chris Martin for being "an early adopter of the song" and helping them "get it into the shape it was in in the film."
Ironically, U2 beat Coldplay out for the award Sunday night; they had been up for their song "Atlas," from the movie The Hunger Games: Catching Fire. It was U2's second win in this category; their last came in 2003 for "The Hands that Built America."
Meanwhile, another rocker also took home a trophy, though you may not have noticed. Alex Ebert , the lead singer of Edward Sharpe and the Magnetic Zeros, took home the trophy for best original score for the movie All Is Lost .
Copyright 2014 ABC News Radio