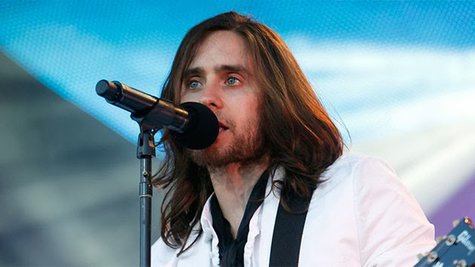 Jared Leto may have scored a Golden Globe and been nominated for an Oscar for his role as a transgendered woman in Dallas Buyers Club , but he isn't in a rush to act in another movie.
"I haven't read a script since [ Dallas Buyers Club ]," he tells Variety . "I'm not actively looking."
The 30 Seconds to Mars frontman adds he expects to appear on the silver screen in the future, but he's going to be very picky about his next project. "It's got to be great," he declares. "It's got to be a genius director, an impeccable script and an absolutely incredible role with a team of wonderful people. Those are the parameters. And it happens." Leto notes his next movie project will find him behind the camera: he's looking to direct a film sometime in the next two years.
As for his other job with 30 Seconds to Mars, the band is currently busy touring to promote their fourth studio album, Love Lust Faith + Dreams . Leto will perform several shows with the guys in Mexico next week, after which he'll head to New York City to host a screening of Artifact , his documentary about the band's legal battle with record label EMI, on February 11.
Copyright 2014 ABC News Radio