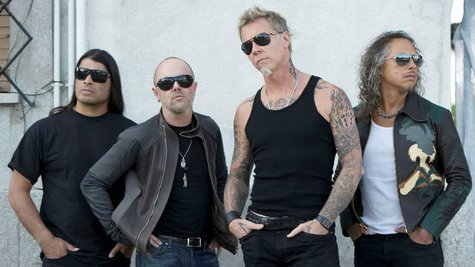 A world tour and a 3D film kept Metallica busy in 2013, but the guys have decided to clear their current schedule and begin working on their follow-up to 2008's Death Magnetic . Guitarist Kirk Hammett says he expects the band will head into the studio sometime in the next couple of weeks.
"We're pretty excited about it because we've been saying we need to start working on this album, but we've been procrastinating greatly with it," he tells Billboard . "We've pretty much come up with every sort of excuse we can not to start work on the album, but we've run out of excuses, so we pretty much have to start work on it now."
Hammett adds that the band has been stockpiling a massive number of ideas for the forthcoming release. "We're a band that never has a shortage of ideas," he declares. "[Frontman] James [ Hetfield ] has, like, 800 ideas. I have 400. Those numbers alone are just crazy. That's formidable."
The next big thing for the band will their appearance on the Grammys later this month, where they'll be hitting the stage with the Grammy Cultural Ambassador to China, pianist Lang Lang . Hammett reveals their performance will feature a unique version of Metallica's popular 1988 single, "One."
"It's going to be an arrangement that highlights some of Lang Lang's playing, but we're not lightening up the song just for him," he explains. "We're still hanging onto all the heavy parts. He's just an amazing pianist; at one point he's going to be, like, weaving in and out of my guitar solo and playing parts of my guitar solo with me."
The Grammys ceremony airs on CBS on Sunday, January 26.
Copyright 2014 ABC News Radio