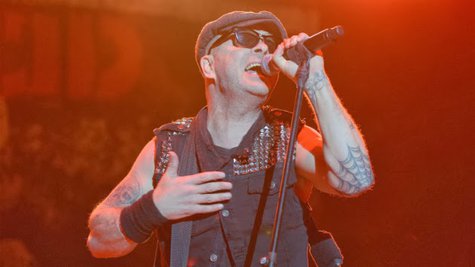 Transplants / Rancid frontman Tim Armstrong soon will give fans a chance to enjoy a completely different aspect of his artistic talent when an exhibition of his artwork opens January 24 in Los Angeles, CA. The show, titled "Avenues & Alleyways," will be viewable through February 22 at Subliminal Projects, a gallery co-founded by American contemporary street artist Shepard Fairey .
"The first time I heard of Shepard was back in 1991 at my punk house in the East Bay, when I saw his stickers on our wall, and I've been a fan ever since," says Armstrong in a statement. "It's an honor to be working with him and Subliminal on this art show. As long as I can remember, I have drawn or painted pictures. I'm looking forward to sharing it with everyone."
According to the event's press release, the exhibition will include a variety of drawings, paintings, and mixed media pieces which feature "figures in Armstrong's life, tools of his trade, album covers for deceased musicians and poetic ruminations scrawled across simple line drawings."
Armstrong has a special treat is store for fans that show up on opening night: he'll be performing a special set as his alter-ego, Tim Timebomb , along with a number of special guests billed as Tim Timebomb & Friends. In addition, a limited-edition box set featuring 45 autographed screen prints by Armstrong will be available. Only 100 copies will be sold.
Copyright 2014 ABC News Radio