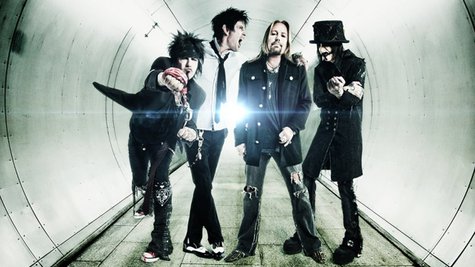 Mötley Crüe has revealed some details about their upcoming event, "RIP Mötley Crüe All Bad Things Must Come to an End," which is set to take place on January 28 in Los Angeles. According to Blabbermouth.net , the band members will hold a press conference sometime that day to unveil plans for their farewell outing, a world tour that may keep the group out on the road for a couple of years.
In an interview with Billboard last August, frontman Vince Neil hinted that the Crüe's final trek may begin sometime this summer. "I think we'll start the tour around May -- I'm just kind of guessing on that, but in the spring of '14, and we'll do one more time around the world and kinda call it quits," the singer told the publication.
Several hours after their press conference, Mötley Crüe will pay a visit to Jimmy Kimmel Live! The band is scheduled to perform a mini-concert on the late-night show's outdoor stage. You can check out the set on ABC at midnight ET/11 p.m. CT.
Copyright 2014 ABC News Radio