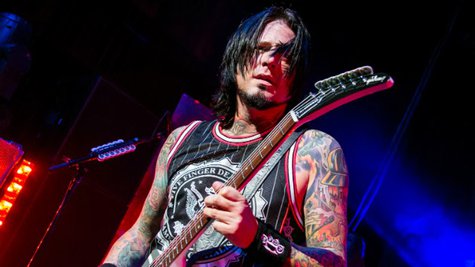 Jason Hook is ready to go solo again. The Five Finger Death Punch guitarist has just announced he'll be putting out his second solo album sometime this spring.
While Hook isn't giving any details about the new album, his debut solo release, 2007's Safety Dunce , was an instrumental project that featured percussion by 5FDP drummer Jeremy Spencer . Safety Dunce picked up the trophy for Best Instrumental Record at the 2007 L.A. Music Awards.
It may be a while before Hook promotes the release, as he's got a pretty full slate of tour dates with 5FDP in the upcoming months. The next show for the band will be on the ShipRocked cruise, which is slated to set sail January 26-30. In addition to a headlining concert by 5FDP, the festival-at-sea includes sets by Papa Roach , Three Days Grace , Sevendust , In This Moment , Candlebox , Tremonti , Young Guns , Black Stone Cherry , and Korn guitarist Brian "Head" Welch 's side project, Love & Death .
Copyright 2014 ABC News Radio