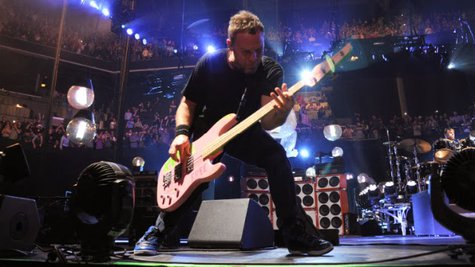 If you plan on playing basketball with Pearl Jam bassist Jeff Ament , it might be wise to wear a face guard. Sherif Hassan claims that he was shooting hoops with Ament and Arcade Fire 's Win Butler over the weekend in New Zealand, when he was hit in the face by the bassist's elbow during the last play of the game.
"He's aggressive, I'll tell you that much," he tells Australian radio station Triple J . "He broke my nose. All I heard was Win going off about how the rules are rubbish down here, and throwing balls around and chucking a bit of a hissy fit."
Hassan adds that Ament made up for the alleged injury buy giving him a pair of tickets and backstage passes to the Auckland stop of the Big Day Out festival. "It was worth it," he declares. "I got to meet Lorde …[she] was just chilling backstage, it was weird seeing her in person. We got to the front of stage for Pearl Jam, and [frontman] Eddie Vedder gave me a shout out."
Copyright 2014 ABC News Radio