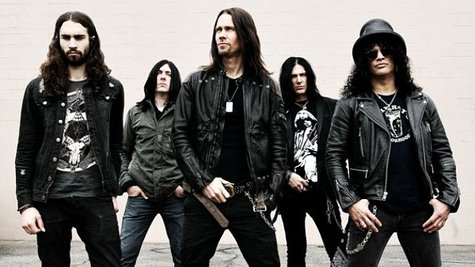 Myles Kennedy and the Conspirators ' Todd Kerns has been busy working on some new cuts with Slash for their next album. The bassist says we can expect the tracks on the upcoming release to sound a bit different than their first collaboration, 2012's Apocalyptic Love .
"The material on this album is more serious and more fun at the same time which is a tough balance indeed," he writes on his blog . "The songs are sleazier, tougher and more dangerous. We are all very excited to unleash the monster upon you as soon as we can."
While the band doesn't have a definite timetable for when the record will be released, Kerns notes the guys will gather in the studio to begin recording in "early February and will work through the next few months."
You may recall that Apocalyptic Love scored a top-10 spot on the Billboard 200 albums chart when it was released: it debuted at #4 on the tally, selling 38,000 copies, according to Nielsen SoundScan.
Copyright 2014 ABC News Radio