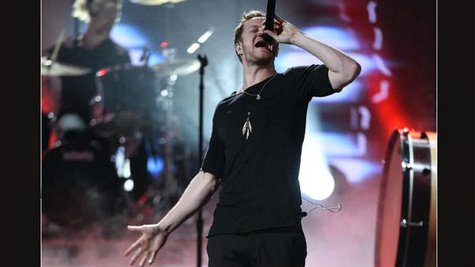 Imagine Dragons is up for two awards at this year's Grammys, but the band isn't expecting to take home any trophies. Frontman Dan Reynolds says he doesn't feel the guys stand a chance to win Record of the Year for their single, "Radioactive," because he feels the track was overshadowed by cuts from pop star Robin Thicke and Lorde .
"Songs like 'Blurred Lines' were huge ," Reynolds tells Rolling Stone . "If I were a voter, I'd be like, 'Robin Thicke was at the VMAs with his pin-striped suit, and Lorde is cute -- and who are Imagine Dragons? I have no idea what those dudes even look like!' When that's the take, you know you're not going to win that award."
Reynolds also expects the group to lose the award for Best Rock Performance, where they're competing against heavy-hitters Jack White , David Bowie , Led Zeppelin , Queens of the Stone Age , and Alabama Shakes .
"I'm not counting on winning against people I worship," he declares. "I've seen Jack White multiple times and he was awesome every time. I can't even get started on Bowie. Queens of the Stone Age -- [frontman] Josh Homme is the man . I'd be more than happy if Alabama Shakes won." The singer adds he doesn't feel the group deserves to be nominated so early in their career and would be "too embarrassed" to accept the award if the band won.
As previously reported, Imagine Dragons will be taking the stage to perform at the Grammys with rapper Kendrick Lamar . Reynolds says he's looking forward to the rocking out on the show, and expects the performance will be a "mashup of some sort."
The Grammys air live on CBS this Sunday night at 8 p.m. ET.
Copyright 2014 ABC News Radio