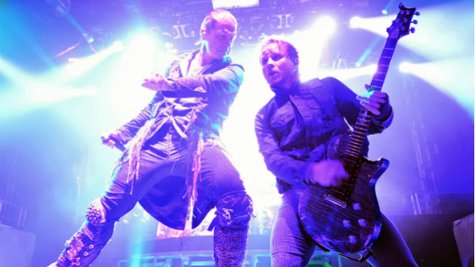 Shinedown frontman Brent Smith and Zach Myers have teamed up to put out a new EP as Smith & Myers , which includes stripped-down versions of classic tracks by Metallica , Black Crowes , Soul Asylum and The Clash . Titled (Acoustic Sessions) , the six-track release will arrive at all the usual digital outlets on January 28.
Smith says around 5,000 fans voted on their Facebook page to determine which songs would be covered by the guys for the release, revealing The Clash's "London Calling" was one of the more difficult cuts to perform. "I'm gonna be honest with you; I didn't grow up listening to The Clash," he tells Billboard . "I really had to learn the song, and it probably wound up becoming my favorite one of the whole session. We took every one of them very seriously, but it was one of the first songs we did, and that kind of set the tone for the rest of them."
The duo posted a three-minute clip of their version of "London Calling" on Shinedown's YouTube channel, and note that videos the rest of the tracks featured on the EP will arrive online sometime soon. Smith adds he and Myers plan to record four more acoustic covers in the future as well, which he expects will hit stores sometime later this year.
"Eventually we will release all 10 songs, which will be great," he declares. "It's not about money for us. We didn't write these songs. We did this for the audience and for the fans, and we know it's something they're gonna dig."
Here is the track list for (Acoustic Sessions) EP:

"London Calling" (Originally Performed by The Clash)
"Sitting on the Dock of the Bay" (Originally Performed by Otis Redding)
"Nothing Else Matters" (Originally Performed by Metallica)
"She Talks to Angels" (Originally Performed by Black Crowes)
"Blue on Black" (Originally Performed by Kenny Wayne Shepard)
"Runaway Train" (Originally Performed by Soul Asylum)
Copyright 2014 ABC News Radio