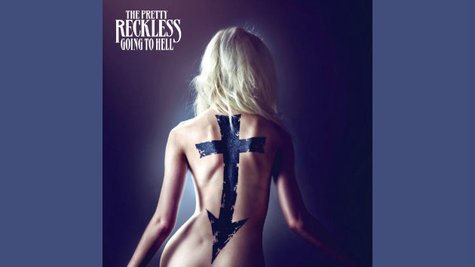 The Pretty Reckless has revealed full details for their upcoming sophomore effort, Going to Hell .
The forthcoming release will feature 14 tracks, including acoustic renditions of two of the cuts: "Sweet Things" and a live version of "Going to Hell." The record will arrive at all the usual outlets on March 18.
You can pre-order Going to Hell now at the band's website in a variety of formats. The biggest package is the Super Fan bundle, which includes the CD, a vinyl copy of the album, and a black arrow logo t-shirt.
In other Pretty Reckless news, the band will hit the road to headline the annual SnoCore tour later this month. That outing kicks off on January 29 at the Bourbon Theatre in Lincoln, NE, and will make stops in Milwaukee, Baltimore, New York, Las Vegas and West Hollywood, among other cities. Heaven's Basement , The Letter Black and Crobot are also on the bill for the traveling festival. Visit SnoCore.com to view the full itinerary.
Here's the track list for Going to Hell :
"Follow Me Down"
"Going to Hell"
"Heaven Knows"
"House on a Hill"
"Sweet Things"
"Dear Sister"
"Absolution"
"Blame Me"
"Burn"
"Why'd You Bring a Shotgun to the Party"
"F**ked Up World"
"Waiting for a Friend"
"Going to Hell (Live Acoustic)"
"Sweet Things (Acoustic)"
Copyright 2014 ABC News Radio