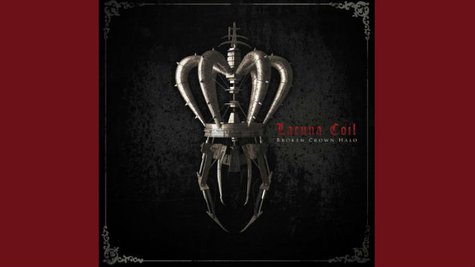 With a little more than two months until the April 1 release of Lacuna Coil 's Broken Crown Halo album, the band has unveiled the official cover art for the set via the its Tumblr page . The cover's an attention-grabbing one, featuring a large studded metal crown with a set of sharp prongs underneath it.
"We are fighting for a kingdom and a crown that is not what it seems to be, one that in reality represents the moment of confusion we're living in, and the very fragile situation we're facing every day," says the band in a statement about the artwork.
The group also has posted the track list for the upcoming release, which will feature 11 new songs that were inspired by "a year full of personal issues and changes," and features some heavy themes.
Before Broken Crown Halo arrives in stores, Lacuna Coil will hit the road for the Revolver Hottest Chicks in Hard Rock Tour. That outing, which also includes sets by Sick Puppies , Eyes Set to Kill and Cilver , kicks off on February 20 at Ziggy's by the Sea in Wilmington, NC. Visit HottestChicksTour.com for the full itinerary.
Here's the Broken Crown Halo track list:
"Nothing Stands in Our Way"
"Zombies"
"Hostage to the Light"
"Victims"
"Die & Rise"
"I Forgive (But I Won't Forget Your Name)"
"Cybersleep"
"Infection"
"I Burn in You"
"In the End I Feel Alive"
"One Cold Day"
Copyright 2014 ABC News Radio