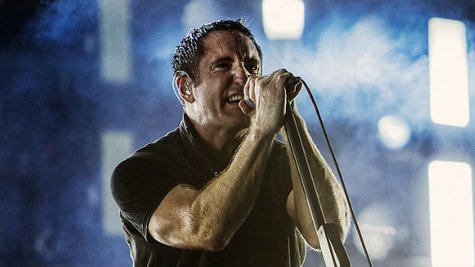 Trent Reznor isn't happy that Nine Inch Nails ' Grammy performance with Queens of the Stone Age , Foo Fighters frontman Dave Grohl and Fleetwood Mac 's Lindsey Buckingham was cut short. While the artists took the stage together to perform NIN's "Copy of A" and QOTSA's "My God Is the Sun" at the end of the show, the set was cut off about three-quarters of the way through, with CBS running commercials over the end of the performance.
Reznor vented his frustration on his Twitter account shortly after the performance, tweeting , "Music's biggest night...to be disrespected. A heartfelt F**K YOU guys."
In other Reznor news, the singer recently revealed he's working on a new musical endeavor, which he'll continue to develop during NIN's upcoming Australian tour with QOTSA. "[I've] just started on a new product," he tells Rolling Stone . "Can't tell you what it is yet. It will take place while touring. Every spare second, and even seconds that aren't spare, are trying to wrangle this new creation into shape."
While it's unclear whether the new music will be for Nine Inch Nails or Reznor's side project, How to Destroy Angels , he says he hopes to unveil the project sometime in the fall.
Copyright 2014 ABC News Radio