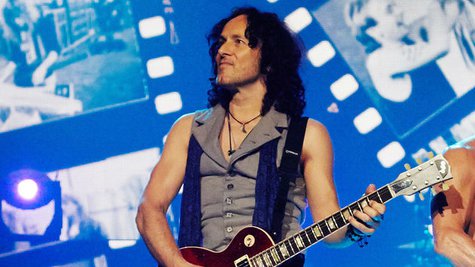 Def Leppard guitarist Vivian Campbell has been going through some tough times lately, as he continues to battle Hodgkin's lymphoma, but he had a major reason to celebrate this past week. The 51-year-old rocker revealed in a post on his official Facebook page this past Friday that he married his longtime girlfriend on Thursday, July 4.
"We had a great ceremony featuring family and friends and the Leppard band and crew," he wrote. "So happy!"
Blabbermouth.net reports that Campbell's new bride is Caitlin Phaneuf , who has worked as a crew member for Def Leppard and Steel Panther .
In the same Facebook message, Vivian reported that he recently began a new chemotherapy regimen, which prompted him "to buzz cut my hair as I'm leaving most of it on my pillow."
In a follow-up note posted Monday on Facebook, Campbell revealed that he had another chemo treatment that day. "C-C-C-Chemo...," he wrote. "Proper rock star stuff -- doing hardcore drugs on a day off." In spite of his illness, Vivian has continued to rock out with Def Leppard as the band tours North America with KISS this summer. The trek is scheduled through an August 31 show in The Woodlands, Texas.
Follow @ABCNewsRadio
Copyright 2014 ABC News Radio