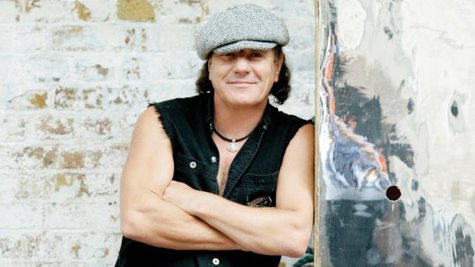 Brian Johnson says that AC/DC has finished recording their new album.
The band's singer tells Scottish website Team Rock that AC/DC recorded the as-yet-untitled follow-up to Black Ice in Vancouver. "It was brilliant over there," says Johnson. "I'm very excited and we've got some great songs." Though there's no official release date, the album will probably arrive late this year or in early 2015.
The only downside to recording the new disc was the absence of guitarist and founding member Malcolm Young , who was sidelined earlier this year by undisclosed health issues. "We miss Malcolm," Johnson admitted. "He's in [the] hospital but he's a fighter... He's [also] very private so we can't say too much. But fingers crossed he'll be back."
Malcolm Young's guitar duties were picked up by his nephew Stevie Young , whom Johnson called "magnificent."
Johnson said his gut reaction to Malcolm's absence was to name the album Man Down, but, he tells Team Rock, "it's a bit negative." Still, he said, it was straight from the heart.
Follow @ABCNewsRadio
Copyright 2014 ABC News Radio