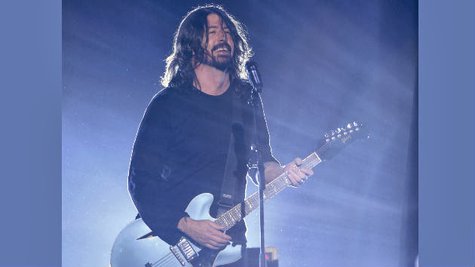 If all Foo Fighters wanted to do was promote their forthcoming album, "We could just go make another record in the studio, hit the road and sell a bunch of T-shirts," says frontman Dave Grohl . Instead, the band visited music meccas across the nation to make the eight-part HBO series, Foo Fighters: Sonic Highways .
"These recording studios are hallowed ground. They're churches and monuments to me," Grohl said Thursday at a press event in Beverly Hills to promote the series.
One of those hallowed institutions is the famous Bluebird Café, a renowned Nashville venue for singers and songwriters. Grohl recalled the surprise acoustic gig he played there last May, performing an hour-long set of some nine Foos songs.
"In Nashville it seems like there are these rites of passage that you have to go through to become a star, whether you're a singer or a songwriter," he said, according to Rolling Stone . "And the Bluebird is really one of those. If you can get down at the Bluebird, you've got a gig."
Sonic Highways features Grohl traveling the country, interviewing musicians about themselves, their music and their cities. The Nashville stop includes face time with country icons Willie Nelson and Dolly Parton -- "Nobody is cooler than Dolly Parton," says Groh l -- as well as blues legend Buddy Guy, rapper Chuck D, and others.
Foo Fighters: Sonic Highways debuts this October on HBO.
Follow @ABCNewsRadio
Copyright 2014 ABC News Radio