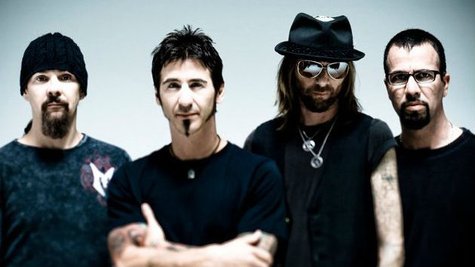 Godsmack will release their first album in four years in August -- and they've got the track list together.
In an interview with Billboard , frontman Sully Erna says the last few years have been rough. "It's one of those crossroads you hit in your life. The band was going through some obstacles we had to jump through; I just think we were tired. We were exhausted from all the years of touring and just needed a break."
The break came in the form of some time off, and a solo album for Erna. But the singer says, "We really missed each other. The love was still there. The brotherhood is stronger now than it's ever been. I'm really proud to say we've learned so much and we've gotten over those hills and there won't be any more of that."
How can he be so sure? Erna says the four band mates have "learned how to understand we're four different people from four different worlds and you have to give people their space. It just takes a while, unfortunately, to learn that when you're in a band, you're in a marriage."
1000hp hits digital and brick-and-mortar stores on August 5.
Here is the track listing for 1000hp :
"1000hp"
"FML"
"Something Different"
"What's Next"
"Generation Day"
"Locked & Loaded"
"Livin' in the Gray"
"I Don't Belong"
"Nothing Comes Easy"
"Turning to Stone"
"Life Is Good" (Best Buy edition bonus track)
Follow @ABCNewsRadio
Copyright 2014 ABC News Radio