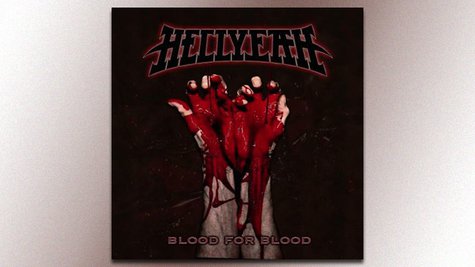 HELLYEAH scored a #1 Billboard rock albums debut three weeks ago with their latest project, Blood for Blood . Just as in-your-face as the title track's message -- "Democracy is hypocrisy, dictatorship is what we need/Because really what's the f**king difference?" -- is the album's cover, which shows a pair of hands drenched in blood, photographed as if you're looking at your own hands. Singer Chad Gray tells ABC News Radio the graphic image isn't intended to be safe.
"We were actually gonna do it from the different perspective and started talking about it and I really wanted to see what it would look like if you were looking at your own [hands]," says Gray. "It's powerful. I was scared to spread it around," he adds with a laugh.
Guitarist Tom Maxwell agrees. "I think if I was walking through a record store and I see this image of these hands just filled with blood, it would pique my curiosity of what, what is this."
Speaking of which, there was some discussion about whether the cover might go too far. "There was some concern whether certain outlets would sell bloody hands and stuff," says Maxwell. "Come on, there's worse album covers out there that are more racy than bloody hands."
In the end, the cover matches the album's message. "It's just a powerful image," says Gray, "and I think the idea of it was, for me, the challenge is to come up with an image that's as powerful as what I felt like the compositions on the record were."
Blood for Blood is available now at all the usual retailers.
Follow @ABCNewsRadio
Copyright 2014 ABC News Radio