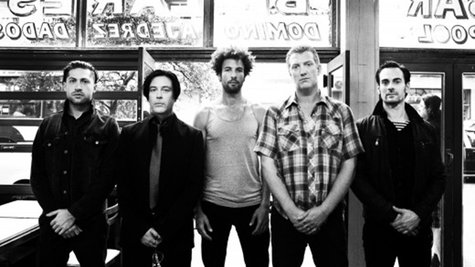 Queens of the Stone Age will be wrapping up their long tour in support of last year's album ...Like Clockwor k this Halloween with an "End of the Road" show at the Forum in Los Angeles, and then it's into the studio to work on new material. At least, that's what frontman Josh Homme tells Crave Online.
"This tour went on longer than we would've hoped," Homme tells Crave . "We're ready to stop now...And also, it means we can take a little time, and get into the studio. We have a lot of songs."
Some of those songs are new, Homme says, while others are left over from the ...Like Clockwork sessions.
"I've been writing a lot on the road, and there's some stuff that we didn't quite pick up to tinker with that was waiting in the wings on the last record," Homme says. "Some of 'em were too happy."
Happy songs aren't always a comfortable fit for the band, according to Homme.
"The most uncomfortable thing of all is to express your own happiness if you're in Queens of the Stone Age," he laughs. "But by the same token, we have a great time. So it's weird to sort of reconcile the two things: where you play it dark, but you keep it light."
Homme is particularly looking forward to getting into the studio with the band's new drummer, former Mars Volta member Jon Theodore , who joined QOTSA last year.
"Jon only performed on one song [on ...Like Clockwork ], and we kind of see our future in Jon," Homme says. "His abilities have not been mined in any way, in that there's so much he can do that takes us into such a weird and beautifully off-kilter position for us. So I think there's a definite urge to jump back in the studio."
Follow @ABCNewsRadio
Copyright 2014 ABC News Radio