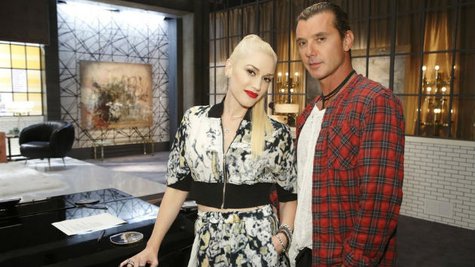 Gavin Rossdale has a new job. In addition to being the frontman of Bush , and dad to his three boys with wife Gwen Stefani , he's also the new adviser for her team on the upcoming season of The Voice .
In an interview with Access Hollywood, Rossdale says, "I don't know how it came about, but it was just one of those things [where] the idea was mentioned – I wasn't even sure who was mentioning it – and then it came around to, 'So, next week you ready? You are gonna come and do this?'"
Rossdale says he'll definitely be less of a focal point on the show than his wife, and that's the point.
"The main thing from my perspective," he says, "is just to make sure that Gwen is so good and excellent like all the other judges on the show, [and] to not interrupt and to normally let her speak, let her do her thing and I'm just like a side thing."
Stefani says her husband -- with whom she's never partnered professionally outside of music -- is a good choice for adviser because "He is super articulate and he has a really good opinion and he is smart. He's been doing a really good job."
"We both have...a lot of experience in the sense that when you look back at all the shows and all the things we've done...I mean, we met touring together and doing hundreds of shows," she adds.
Gwen makes her debut as a coach on season 7 of The Voice, which begins September 22 on NBC.
Follow @ABCNewsRadio
Copyright 2014 ABC News Radio