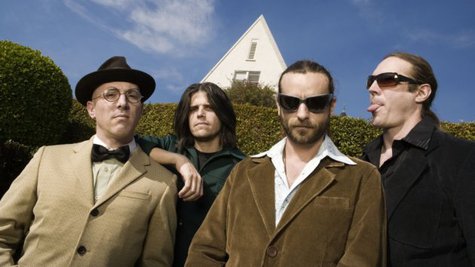 It's been seven years since we've seen any new music from Tool , despite a rumor earlier this year that the long-awaited follow-up to 10,000 Days was done and about to be released. So what's the hang-up? According to guitarist Adam Jones and drummer Danny Carey , it's because a legal mole hill has turned into a mountain.
The musicians tell Rolling Stone it all began in 2007, the year after 10,000 Days was released. A friend of Jones' brought legal action against Tool for artwork he said he created for the band, and for which he wanted credit. Ironically, the insurance company Tool believed would defend them against lawsuits then itself filed suit against the band over "technicalities regarding the case." That prompted Tool to counter-sue to defend itself against the insurance company, and here we are. Seven years on, and no new Tool music. In the meantime, the band is spending "millions and millions and millions of dollars" litigating the whole thing, says Jones, when they'd rather be making new music.
Not that the band hasn't been doing that: Carey, Jones and bassist Justin Chancellor are writing new songs, a process they say has been bearing fruit. Jones says they've even got one ten-minute track that's "pretty much done," but it hasn't been easy with the ongoing legal drama. "It's like we've been in a war," says Jones. "And it's unnecessary. It's just a shame."
For his part, Carey says, "I'm hoping that we have something really solid recorded by the end of the year. But we'll see how it goes. I thought that last year, too."
You can read more at RollingStone.com .
Follow @ABCNewsRadio
Copyright 2014 ABC News Radio