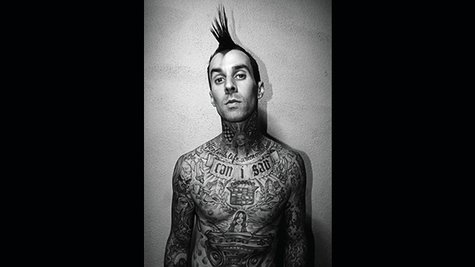 Blink-182 drummer Travis Barker -- who was severely burned when he survived a plane crash in 2008 -- is going under the ink gun to cover up some of the scarring.
When accosted by a TMZ reporter outside a skate park in L.A. and asked about his tattoos, Barker said that he got his first tattoo at the age of 16 on his leg. It featured the word "Bones," his nickname because he was so skinny. When the reporter asked to see it, Barker said, "It's gone, man, I actually lost it in my plane crash...but I'm gonna do my legs over again. I've got a second chance at my legs."
That "second chance" description is spot-on: Barker was one of only two survivors of the plane crash, which took place after a show on September 19, 2008. He sustained serious burns and underwent 16 surgeries in his recovery. Since the crash, when asked "How are you," Barker's standard response is, "Blessed."
Barker's most recent musical composition is a track called "Live Forever" on the 22 Jump Street soundtrack.
Follow @ABCNewsRadio
Copyright 2014 ABC News Radio Unfortunately your browser does not support IFrames.
Travis Barker -- My First Tat Burned Off in Plane Crash ... But I'm Gonna Fix It
- Watch More
Celebrity Videos
or
Subscribe