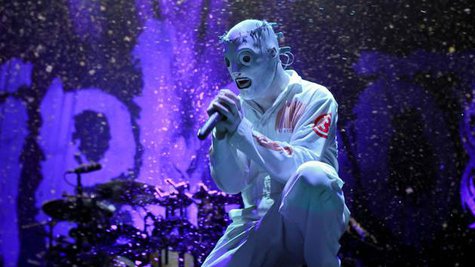 As previously reported, the members of Slipknot have been working on a new album. The recording of the collection has been a little drama-filled: it's the first without bassist Paul Gray , who died of a drug overdose in 2010; drummer Joey Jordison was booted from the band at the end of last year; and guitarist Jim Root was asked to leave the band's side project, Stone Sour , though he's still with Slipknot. All very mysterious.
Another mysterious thing is a recently posted video clip from Slipknot, with a very exciting sonic tone and some creepy imagery -- like what looks to be a severed ear -- but no concrete information about the album. Such has been the case in general about the new music: frontman Corey Taylor has refused to answer interview questions about the recording sessions and given only the most general of indications of how things are going, studio-wise.
You can try to suss out the message by viewing the clip on Slipknot's Instagram page , but for concrete details...stay tuned.
Follow @ABCNewsRadio
Copyright 2014 ABC News Radio