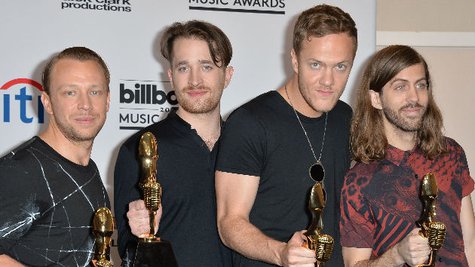 In between concert dates, Imagine Dragons has been working on their second album in their hometown of Las Vegas, and singer Dan Reynolds says they've been "having a lot of fun." He also says fans can expect a mix of sounds and styles -- just like on their best-selling 2012 debut, Night Visions -- because they don't want to write "themselves into a box."
The hit singles from Night Visions -- "It's Time," "Demons," "Radioactive" and "On Top of the World" -- all sounded very different from one another; at times, it was hard to believe all those songs were by the same band. And Reynolds says for Imagine Dragons' sophomore release, he expects to continue creating an eclectic bunch of tunes.
"I think a lot of my favorite artists that I listened to growing up....[like] The Beatles , were always changing and never really writing themselves in a box," he explains. "They would write, like, 'Helter Skelter' and then 'Let It Be.' It's like, at least for us as a band, we always are trying to push our limits and try something refreshing to us...I think we'll always continue to do different things."
Dan feels that Imagine Dragons' new material shows that "we have a lot of growth as songwriters." As for whether or not the band's newfound success has changed their approach, Dan says he still feels that the best songs are born from trying experiences.
"I've always felt that struggle really breeds art, your best art," he explains. "Sometimes, you know, happiness can breed your best art, but for me I feel like it's always been, almost, my journal. It's been my thing that I've gone to since I was in sixth grade -- pretty nerdy and geeky and I still am -- but it's always...brought me comfort. At the end of the day I could write a song about what I was going through."
Dan has hinted in the past that some of the things the band has been going through recently -- like trying to adjust to their sudden fame and insane schedule -- may find their way into the new music. Back in May, he told reporters that all the "crazy changes" the band has experienced "has been kind of entwining into the album, and so it has a lot of emotion...the highs and lows that come with that."
No word yet on when we can expect the follow-up to Night Visions . The band has a string of festival dates booked next month in Europe and the U.K, and then they'll return to the U.S. at the end of August to perform at the L.A. installment of the Budweiser Made in America festival on August 30.
Follow @ABCNewsRadio
Copyright 2014 ABC News Radio