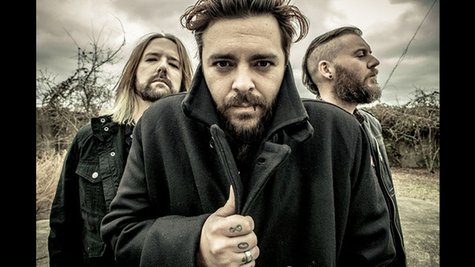 "Words as Weapons," the first single from Seether 's new release, Isolate and Medicate , is lodged at the top of the Billboard Mainstream Rock Songs chart. Not bad for a song that Seether frontman Shaun Morgan says was initially written as a one-off for the band's greatest hits compilation.
Morgan tells ABC News Radio that he wrote "Words as Weapons" last year -- "actually, right before we got told we were no longer with our label," he says. Then, "a friend of mine had mentioned to me, 'Don't you think that song's too good to go on that throwaway compilation?,' and I was like, 'You've got a point.' So I called all the guys and said, 'We've got to keep that song, we'll have to do something else [for the compilation].'"
Of course, after the greatest-hits collection, Seether's label sold them to another label, which plunged Morgan into a depression. Luckily, having "Words as Weapons" set aside helped pull him out. "I don't think I didn't write at all during that time," Morgan says. "But I think it was certainly good to know I had that [song] as a foundation, some positive energy driving me to keep writing."
Morgan says that the band knew "Words as Weapons" was a great song, and that belief helped them "pretty much set the bar for the rest of the album. It was like, 'Whatever is written has to be better than that song.'"
Isolate and Medicate is available at the usual digital and brick-and-mortar outlets now.
Follow @ABCNewsRadio
Copyright 2014 ABC News Radio