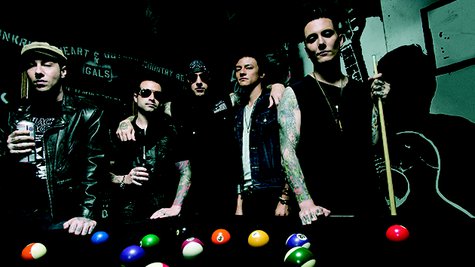 When Avenged Sevenfold made its second album, 2003's Waking the Fallen , guitarist Zacky Vengeance remembers the band working really hard in order to play and sing better. It also took a lot of effort to assemble the bonus material for the deluxe reissue, titled Waking the Fallen: Resurrected and due August 26.
"We were tracking down footage, and it's a difficult task because we've been on tour nonstop," Vengeance tells Billboard.com, adding that the process included rummaging through his parents' attic and phoning family members. The band wanted the reissue to come out last year in conjunction with the album's 10th anniversary, "but the quality was more important" than meeting that deadline, Vengeance says.
In addition to the original album's 12 songs, Waking the Fallen: Resurrected also includes demos and concert recordings, plus the previously unreleased title track and an alternate take on "Second Heartbeat." The package is rounded out with a DVD containing a documentary and much more.
As for new Avenged Sevenfold music, Vengeance says "ideas are going to be brewing" once the band gets off the road.
"I know [guitarist Synyster Gates has] been writing a ton purely for fun, trying different styles, recording backstage, keeping himself busy," reports Vengeance. "I've been thinking of all sorts of ideas, listening to tons of different music to get inspiration -- as have all of us. And being on tour, I'm so inspired."
Follow @ABCNewsRadio
Copyright 2014 ABC News Radio