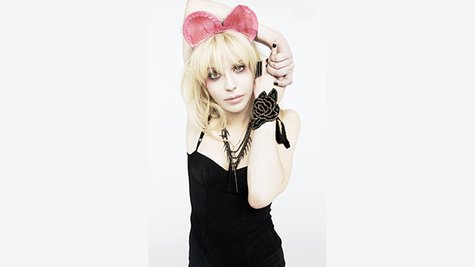 Angela McCluskey fans got a big surprise last night when Courtney Love hopped onstage at the singer/songwriter's show at Rockwood Music Hall in New York City.
Love -- who's been spotted at McCluskey shows in the past -- sat in the back of the tiny room for most of the performance, at one point calling out, "Amazing!" at the end of a song. Toward the close of McCluskey's set, Love was summoned to the stage, where she recited a Charles Baudelaire poem and ripped into Hole 's "Never Go Hungry," accompanying herself on acoustic guitar and receiving a little support from pianist Paul Cantelon , who plays with McCluskey in Wild Colonials .
McCluskey's fans were overwhelmingly enthusiastic in their response to Love's performance. For her part, Courtney told ABC News Radio after the show that Angela McCluskey has "amazing talent." "I love her!" Love gushed. "She sings like an angel!" The feeling is mutual; McCluskey was obviously thrilled to have Love crash her show and was beaming as she made the introduction.
McCluskey is doing a Monday night residency in the tiny basement room at the Rockwood Music Hall , with three shows scheduled for both August and September.
Follow @ABCNewsRadio Copyright 2014 ABC News Radio