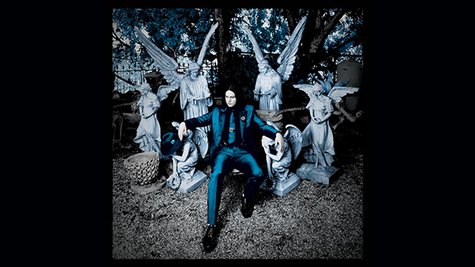 As previously reported, Jack White recently made the World's Fastest-Released Record back in April by recording and pressing a 7-inch version of new song "Lazaretto" in an old-fashioned recording booth at his studio in Nashville. Now the former White Stripes frontman has his sights set on a loftier goal -- he'd like to record in outer space.
In an interview with The Tennessean , White reveals, "One of the big projects we've been working on for a while is the first record in space." The singer admits it's "been a long-going project" but says he's "coming close to it."
White doesn't divulge further details -- Would he bring other musicians? Would he take the recording booth with him? -- but calls the idea "a nice long term goal to attach to, because it sort of means everything and means nothing at the same time." He acknowledges, "I've always worked to finding really deep meaning and also at the same time having it covered in sugar, so it can be taken two or three different ways," using as an example his work with White Stripes, in which he and band mate Meg White played serious blues rock while wearing clothes and decorating stages and album covers in only three colors, for no relevant reason.
Jack White wraps up the first leg of his tour this weekend in Toronto. The tour picks up again in two weeks, in Kansas City, Missouri.
Follow @ABCNewsRadio
Copyright 2014 ABC News Radio