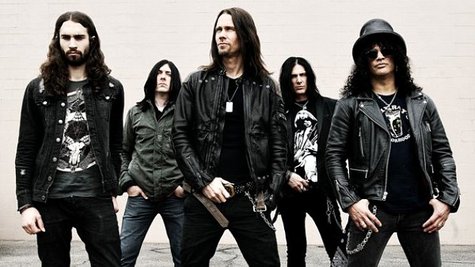 Slash with Myles Kennedy and the Conspirators are on the road this summer with Aerosmith , and that experience is the subject of the first installment in a new video series, Ask Slash & Myles , that premiered Tuesday on the guitarist's website .
In the two-minute clip, Slash explains that although he wasn't planning to tour behind his upcoming album, World on Fire , until around the time of its release in September, when the opportunity arose to hit the road with Aerosmith, he jumped.
"They were a huge influence on me, and the direction I went into musically is very much in tandem with what they do, so the two of us playing together is a sort of unique rock and roll package that you don't see to much of these days," Slash says.

"They were one of those band that helped draw up the blueprint for hard rock," says Kennedy. "The goal for me is to just try and keep up. Steven Tyler is one of the greatest front men in rock and roll...so I'm real excited to sit on the side of the stage when we're done and just take notes."

New episodes of Ask Slash and Myles will be posted each Tuesday at 10 a.m. PT.
Follow @ABCNewsRadio
Copyright 2014 ABC News Radio