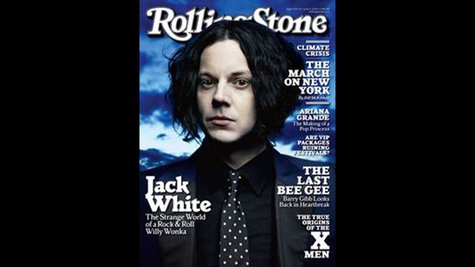 The war of words continues between Jack White and The Black Keys . Last year, in some emails leaked to Rolling Stone , White accused Keys's singer Dan Auerbach , of trying to "follow me around, copy me and push himself into my world." Those emails started a bit of a feud, with the Keys' drummer Patrick Carney telling Rolling Stone he was "embarrassed for" White, who he said, "Sounds like an a****le."
In the new issue of the magazine, which features White on the cover, the former White Stripes leader stands by his original statements and takes it a step further : "I'll hear TV commercials where the music's ripping off sounds of mine, to the point I think it's me," he says. "Half the time, it's the Black Keys."
White goes on to point out that an innovator like Amy Winehouse made it possible for " Adele [to sell] 20 million records. The White Stripes did the same thing, and in our absence, you're gonna find someone to fill that. And you get a band like the Black Keys, who said they never heard of the White Stripes? Sure."
White has since addressed his comments on his website, in order to, in his words, "clear up a lot of the negativity surrounding things I've said or written, despite the fact that I loathe to bring more attention to these things."
He writes that he wishes the Black Keys nothing but success. He says, "Lord knows that I can tell you myself how hard it is to get people to pay attention to a two piece band with a plastic guitar, so any attention that the Black Keys can get in this world I wish it for them, and I hope their record stays in the top ten for many months and they have many more successful albums in their career."
White further states he did not meant to slight Winehouse, Adele , or two other female artists he mentioned to Rolliing Stone , Duffy and Lana del Rey , who he says have "amazing voices" and whose records he owns.
He also elaborates on his opinion of his former White Stripes band mate, Meg White , whom he casts in an unflattering light in the Rolling Stone interview. He writes, "She is a strong female presence in rock and roll, and I was not intending to slight her either, only to explain how hard it was for us to communicate with our very different personalities. This got blown out of proportion and made into headlines, and somehow I looked like I was picking on her. I would never publicly do that to someone I love so dearly."
His note concludes, "So, God bless the Black Keys, Danger Mouse , Adele, Meg White, and anyone else I've spoken about, and thank you for understanding. Good fortune to all of them, and I'm sorry for my statements hurting anyone."
You can read White's interview in its entirety in the new issue of Rolling Stone , on stands now.
Follow @ABCNewsRadio
Copyright 2014 ABC News Radio