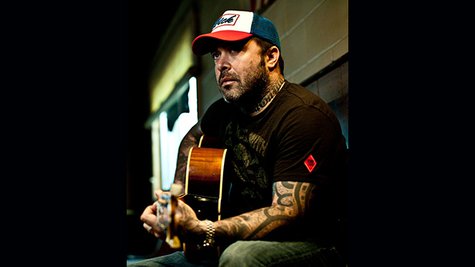 Staind frontman Aaron Lewis came close to handing out beat-downs this weekend when he saw a young, female crowd-surfer being groped at Staind's show in Kansas City.
Lewis stopped the show during "Something to Remind You," and began a rant that started with "Listen up, you f***ing a*****les," pointed out the young girl crowd-surfing, called the guys who were groping her "pieces of s***" whose "mothers should be ashamed" and promised that if he saw it happen again, "I will point you out in the crowd and have everyone around you beat your f***ing a**."
As the band began to restart the song, Lewis said sweetly, "Now girls, feel free to crowd-surf safely."
This isn't the first time Lewis has spoken up for women. A few months back, the singer -- who also has a successful country career -- made headlines for criticizing another country song, "Redneck Crazy," by Tyler Farr . It's written from the perspective of a boyfriend who finds out his girlfriend's been cheating on him -- so he stalks her and her new boyfriend to her house at 3 a.m., looking for a fight. Lewis called out the song as being "pretty f***ed up," and then sang a parody version -- directed toward the stalker ex-boyfriend, who he advises "to get right up and go home" unless he wants Lewis to "shoot the headlights out of [your] Silverado."
Staind has two more scheduled tour dates -- this Saturday and Sunday in Las Vegas and Scottsdale, Arizona, respectively.
Follow @ABCNewsRadio
Copyright 2014 ABC News Radio