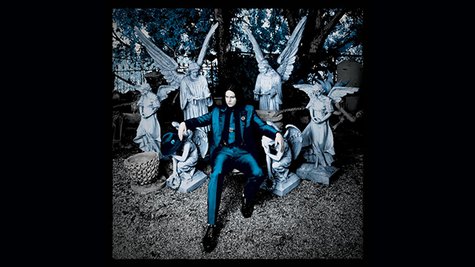 Happy Tuesday, everyone: a full week before its intended release, Jack White 's new album, Lazaretto , is now streaming on iTunes. The 11-song album was originally scheduled to hit digital and retail outlets June 10, but you can listen to it in its entirety right now, as well as pre-order a digital copy.
When Lazaretto officially drops a week from today, it'll also be released as the previously-announced Lazaretto "Ultra LP," which you can pre-order now via Jack White's Third Man Records website . The disc will pressed on 180-gram vinyl and feature a variety of special features for vinyl and analog audio enthusiasts, which White demonstrates in a video trailer . Among the special features are two vinyl-only hidden tracks beneath the record's center labels, one of which plays at 78 rpm the other at 45 rpm. Additionally, the intro to one of the songs, "Just One Drink," uses "dual-groove technology" with either an electric or acoustic intro playing, depending on where the needle is dropped, then with the two grooves meeting for the body of the song. Also, the dead wax on side A contains a hand-etched hologram by Tristan Duke of Infinity Light Science, the first of its kind on a vinyl record, while the B-side is pressed in a matte finish, giving it the appearance of an unplayed 78 rpm record.
The tricks don't stop there. The Ultra LP also has a different track order and uses some different mixes from the CD version of the album, and was recorded, mixed and mastered using no compression.
Here's the track listing for the CD issue of Lazaretto :
"Three Women"
"Lazaretto"
"Temporary Ground"
"Would You Fight for My Love?"
"High Ball Stepper"
"Just One Drink"
"Alone in My Home"
"Entitlement"
"That Black Bat Licorice"
"I Think I Found the Culprit"
"Want and Able"
Follow @ABCNewsRadio
Copyright 2014 ABC News Radio