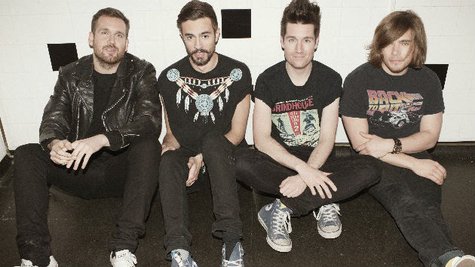 Bastille 's smash hit "Pompeii" is one of those rare songs where the title never actually appears in any of the lyrics. But the tune is called "Pompeii" for a reason: it's about the people in the ancient Roman city of Pompeii, which was destroyed in 79 AD by the eruption of Mount Vesuvius.
Today, what's left of Pompeii is a popular tourist destination, and yes, the guys in Bastille have visited it. The ruins of Pompeii, which were well-preserved by all the ash from the volcano, are located in Italy, near Naples. "We went there last summer," Bastille drummer Chris "Woody" Wood tells ABC News Radio. "It was one of the hottest places I've ever been to in my life!"
Temperature aside, Woody says he and the rest of the guys were impressed at the scope of the place, since singer Dan Smith wrote the tune in 2010, before he'd seen Pompeii with his own eyes.
"It's just, like, the most incredible place," says Woody. "And from having seen only pictures of it previously, you don't quite appreciate just how big it is. We were picturing maybe seeing a couple of the frozen bodies in ash and the odd kind of wrecked building. But there were, just, like, streets and streets! There are two different amphitheaters and markets. It's a good couple of square miles."
According to Smith, "Pompeii" imagines a conversation between two of the victims of the Pompeii eruption: they're dead, and frozen in ash forever. Not the most common subject for a top-10 hit, to be sure. "I think it's an honest song," notes Woody, adding, "It's not your kind of typical throwaway love song."
Bastille will be performing "Pompeii" all over the globe for the next few months. They'll play the Governors Ball festival in New York City this weekend, followed by festivals in the Netherlands, their native U.K., Germany, Sweden, Switzerland, Norway, Denmark, Spain, Belgium, Latvia, Italy, Romania, Austria, Russia and more.
Follow @ABCNewsRadio Copyright 2014 ABC News Radio