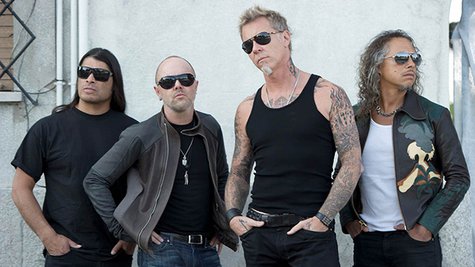 For Metallica fans, the idea of the band's new album has been feeling like a carrot on the end of a stick for a while. First it was to have been finished in 2013, then by 2014, then later this year. Now the band recently revealed in an interview with Argentinian television station TN that the new album will be out next year. But Metallica fans aren't the only ones frustrated with the never-ending pushback. The band members are cranky about it too.
In a new interview with the BBC's Radio 1 , Lars Ulrich says that work on the new material is "good, [but] I wish we were writing more." The drummer says that they'd be a lot more productive if they weren't such nice guys, always agreeing to do extra gigs. "We did a tribute for Ozzy [at the MusiCares MAP Fund Benefit Concert].... And all these things always happen. And the word 'no' is not one that we're very good with. So people [ask us], 'Come and do this,' [and we say] 'Okay, we'll be there,'" and then...there goes all the writing for that week." But, he says, "It's slogging along."
And there seems to be a light at the end of the tunnel in August. Ulrich says, "From mid-August for the rest of the year there's nothing on the calendar, so hopefully we can get a good 60 hours in a week and just get in there and just hit it."
The new album, whenever it does arrive, will be the band's first since Death Magnetic in 2008.
Follow @ABCNewsRadio Copyright 2014 ABC News Radio