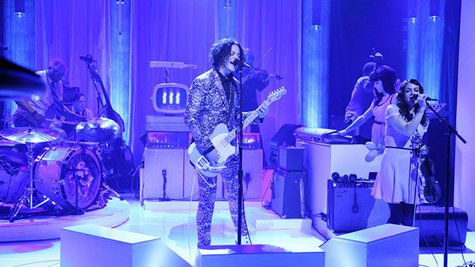 Jack White visited The Tonight Show Starring Jimmy Fallon Monday to talk about his new album, Lazaretto , and perform the title track.
The 11-song album has been streaming on iTunes for the past week, but it officially hits digital and retail outlets today, June 10.
As he's stated previously, the 38-year-old former White Stripes frontman told Fallon that some of the material on the new album came from stuff he had written as a teenager. "I was cleaning out some things in the attic and I found some writings I did when I was 19," White told Fallon.
"They weren't very good, they were just sort of writings like one-act plays, poems and things and I just pulled a couple of characters out of them and thought, 'what if I teach myself how to write a song as a 19-year-old, but if I had my older self to talk to right now...how would I tell myself how to write a song.' So that's what I did on a few of those tracks," White said.
In addition to the CD version, Lazaretto will also be available as an "Ultra LP," pressed on 180-gram vinyl and featuring a variety of special features for vinyl and analog audio enthusiasts.
White will help launch the album with three California shows today, Wednesday and Thursday:
6/10 -- Los Angeles, CA, Fonda Theatre
6/11 -- Los Angeles, CA, The Mayan
6/12 -- Pomona, CA, Fox Theater
Here's the track list for the CD issue of Lazaretto :
"Three Women"
"Lazaretto"
"Temporary Ground"
"Would You Fight for My Love?"
"High Ball Stepper"
"Just One Drink"
"Alone in My Home"
"Entitlement"
"That Black Bat Licorice"
"I Think I Found the Culprit"
"Want and Able"
Follow @ABCNewsRadio
Copyright 2014 ABC News Radio