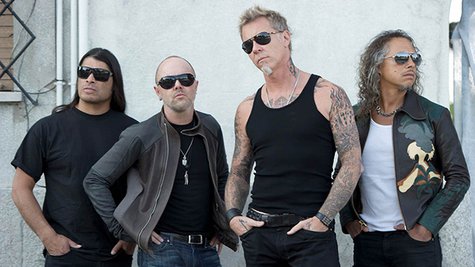 There's a new video posted on Metallica 's official YouTube channel, featuring two songs from the band's recent show in Oslo, Norway. Included in the clip is some killer footage of "Fade to Black" and "For Whom the Bell Tolls."
Perhaps more interesting for fans, though, is a snippet of behind-the-scenes footage from Metallica's backstage tuning room. Frequent watchers of Metallica's official rehearsals know that the band members are all business when they run down a song -- playing is tight and professional, right down to note-for-note solos. At the Oslo rehearsal, drummer Lars Ulrich asked someone off-camera to choose a song for rehearsal but when that person asked for "Frayed Ends" -- a song that Metallica played recently for the first time in 26 years -- Ulrich laughed and said, "'Frayed?' We have to wait another 26 years for that. You're...too late." After a little tussling, the band members settled on "Ride the Lightning."
The video is available for immediate viewing on the MetallicaTV channel of YouTube.
Follow @ABCNewsRadio Copyright 2014 ABC News Radio