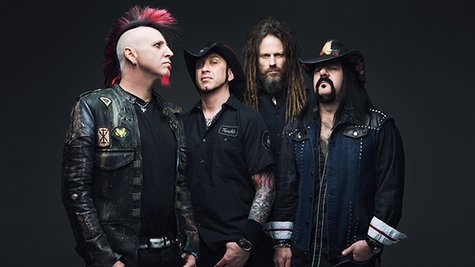 HELLYEAH 's new album, Blood for Blood , hits digital and bricks-and-mortar retail outlets today. The band members, and critics who have heard the album already, believe that this is HELLYEAH's definitive album. Drummer Vinnie Paul tells ABC News Radio, "It's HELLYEAH's Back in Black ."
Blood for Blood comes after a long period of strife within the band: two members have left since their last release. But HELLYEAH singer Chad Gray tells ABC News Radio that the resolution of that conflict has given the band new energy. "In the first rehearsal [with our new bassist Kyle Sanders ] I look [over] and it's like, 'Have I been in this band for seven years, or seven minutes?'" he says. "It felt like it just started."
Gray says that the sense of a fresh start permeates the whole project. It's "the thing about this record and everything [else] -- new kind of attitude, new kind of vibe, new players," he says. "Everything feels brand new. It's like Christmas morning when you're like, 'Wow!' It's like, 'Holy hell, this is a brand new band.'"
After a well-publicized falling out with band mates Greg Tribbett and Bob Zilla , Gray, Paul and guitarist Tom Maxwell had to rebuild the band. They've done so by hiring Sanders on bass, and guitarist Christian Brady , who's a touring gun, at least for now. Maxwell tells ABC News Radio, "We love [Kyle]. We didn't want to hold auditions and have a bunch of clowns come in, people that we didn't know. [We knew Kyle] and [he's] a beast of a talent."
Buzz has been building for Blood for Blood for months, since before the band's recent tour with Avenged Sevenfold , and Gray tells ABC News Radio he's been dying for June 10 to arrive. "I was like, 'Man, I can't wait for the record to come out,' [but it was] like two months away. It's like, we're gonna wake up tomorrow and it's gonna be June tenth, so it's all good. It's just there's been a lot of excitement, with the Avenged tour, and seeing new people [out there], people that wouldn't normally go to a HELLYEAH show. So it's been exciting."
You can find Blood for Blood in all of the usual outlets.
Follow @ABCNewsRadio
Copyright 2014 ABC News Radio