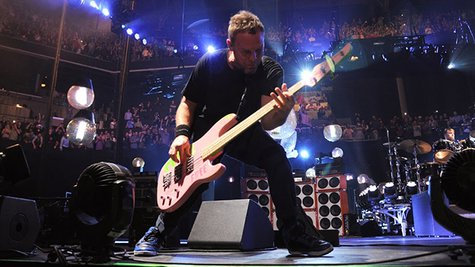 When it comes to kids and skateboarding, Jeff Ament puts his money where his mouth is. Pearl Jam 's bassist has kicked in $40,000 so a skateboarding park could open in Glendive, which is a town in Montana, his home state.
Ament had just one request, and it wasn't to name the park after himself. He only asked that the design be modified to include what's called an "amoeba pool," a circular, concave concrete structure with two chambers, one approximately four feet deep and one eight feet deep. When reached by phone by the Missoulian , Ament said that the amoeba pool was good training for beginners and, "It sort of made sense to have something that wasn't super hard to ride."
Ament has helped fund Montana youth programs, particularly skate parks, in the past. He told the Missoulian , "If [a town has] a baseball field and basketball court and a swimming pool, [it] should probably have a skate park, too. [It's] a great place to get your energy out and explore your creativity."
The Glendive park will be called the Brett Fitch Memorial Skate Park, in honor of a 20-year-old skater who died when his family's car was involved in a rollover accident in 2007.
A foundation in Fitch's name was established to raise funds for the park, which has been years in the making. An additional $28,000 is still needed for finishing touches. Donations are being accepted at the foundation's website, FitchFoundationMT.org .
Follow @ABCNewsRadio
Copyright 2014 ABC News Radio
"I think a skate park is a great place to get your energy out and explore your creativity." #JeffAment ... http://t.co/tAmSxXaR3K

— Jeff Ament's Army (@JeffAmentsArmy) June 16, 2014