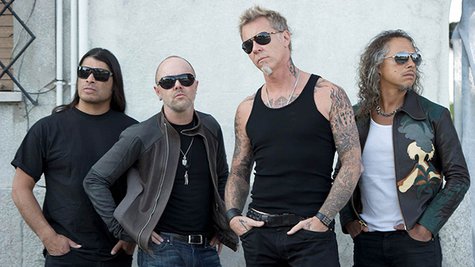 Metallica 's official website tour videos often offer behind-the-scenes looks for fans. The latest, from Hamburg, Germany , shows that the guys themselves, like their fans, have their favorite songs, and these days the front-runner seems to be "Through the Never."
In the Hamburg rehearsal -- shot, as most are, in the oddly professional-looking pop-up rehearsal room seemingly made from cloth screens -- Metallica runs through a note-for-note "Through the Never." Right afterward, drummer Lars Ulrich says, "Put that one up for vote of the day," and Kirk Hammett jokes, "Can't we just pretend that there's been a huge uprising and 'Through the Never' is leading?"
Both guys laugh about the idea of a "computer glitch" bumping the song ahead in a fan poll and Ulrich says, "Yeah, the glitch in my brain," and then adds that running through that song is "the most fun I've had all day." Then all four guys pretend to get ready to play the song again, they start to act out the Through the Never documentary, and bassist Robert Trujillo jokes that they should make a musical of the doc.
The band is on its Metallica by Request tour, in which they let fans determine the songs that will be played during a given show. The recent set lists , however, are almost identical.
Here is the Hamburg set list, which contains the same core of songs found over the last 10 or so Metallica shows:
"Battery"
"Master of Puppets"
"Welcome Home (Sanitarium)"
"Ride the Lightning"
"The Unforgiven"
"Creeping Death"
"Lords of Summer"
"Sad but True"
"Fade to Black"
"...And Justice for All"
"One"
"For Whom the Bell Tolls"
"Whiskey in the Jar"
"Nothing Else Matters"
"Enter Sandman"
"St. Anger"
"Fuel"
"Seek & Destroy"
Follow @ABCNewsRadio
Copyright 2014 ABC News Radio