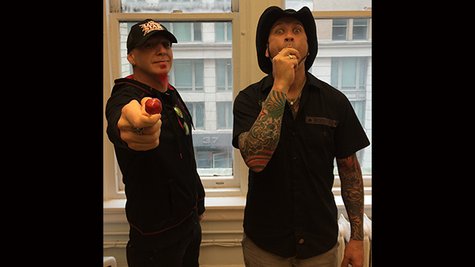 HELLYEAH 's latest, Blood for Blood , has landed solidly at the top of the Billboard Hard Rock Albums chart this week. The album is the product of a couple of lineup changes -- Greg Tribbett and Bob Zilla parted ways with the band before recording began -- leaving the remaining members free to make the album they always wanted.
HELLYEAH's Tom Maxwell tells ABC News Radio, "When me and [singer] Chad [ Gray ] first started this band, Blood for Blood is the album that we always wanted to make. But we couldn't, because there were other cooks in the kitchen, bringing in other elements and styles." Maxwell says that the Southern-tinged "party rock" vibe was something he "wasn't that fond of, that's not me. I'm a punk rock metal kid from Baltimore, Maryland. I'm razor blades...[not] party rock."
Blood for Blood is at times dark and aggressive. Maxwell says he finds it to be "brutally beautiful." As far as lyrics go, Maxwell salutes Gray. "[He] really stepped up and I think it's his finest work he's ever done, lyrically [and] performance-wise."
HELLYEAH will play a few festivals this summer before leaving this fall to appear on the tour lineup with Five Finger Death Punch and Volbeat .
Follow @ABCNewsRadio Copyright 2014 ABC News Radio