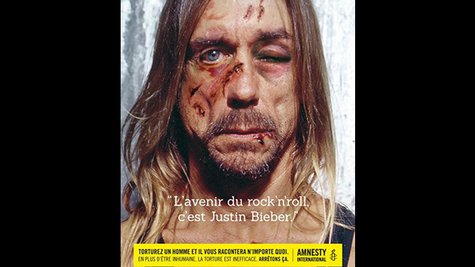 "The future of rock and roll, it's Justin Bieber ," so says Iggy Pop in a new ad campaign. But, no, Pop didn't have a lobotomy. The anti-torture ad campaign comes from the Belgian branch of human rights organization Amnesty International, and the point is that people will say anything under torture.
Pop is just one of several cultural and political icons featured in the campaign, which shows their faces altered to make it appear as if they'd been beaten, accompanied by outlandish quotes they might have given under torture. Others featured in the campaign include the Dalai Lama , whose caption reads, "A man who does not have a Rolex watch [by] 50 years old [is a failure]," and fashion designer Karl Lagerfeld , who says, "The summit of elegance...is the Hawaiian shirt and flip-flops."
Following the outlandish taglines is Amnesty's message: "In addition to being inhumane, torture is ineffective. Let's stop it."
Amnesty International often aligns with musical figures, most recently organizing a benefit concert at Brooklyn's Barclays Center which featured Imagine Dragons , Blondie , The Fray , Cake and Pussy Riot .
Follow @ABCNewsRadio
Copyright 2014 ABC News Radio