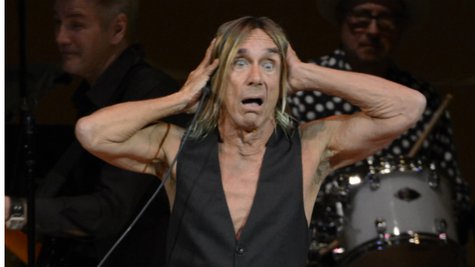 Amnesty International has issued an apology to Iggy Pop for using his picture without permission. The snapshot -- showing Pop's bruised and beaten face -- was part of the human rights group's new anti-torture campaign, and featured the slogan "The future of rock and roll, it's Justin Bieber ."
Whether or not Iggy Pop likes Bieber is anyone's guess, but apparently some fans were offended that Pop was bad-mouthing another artist, even one whose musical sensibilities are pretty far removed from that of the punk god.
The apology was issued from the Belgian branch of Amnesty and picked up by Pop on his Twitter feed . It read in part, "To generate awareness about our campaign against torture, [we] used an image of Iggy Pop without his authorization. Even though we acted in good faith, we would like to apologise to Iggy Pop for having done so. We would therefore also like to make it clear that the statement attributed to Iggy Pop that he believes Justin Bieber is the future of rock and roll does not represent Iggy Pop's personal opinion but was part of the creative process for this campaign and was intended to be ironic."
The organization also apologized for using a photo of the Dalai Lama in the campaign. Besides those two images, there was a poster of fashion designer Karl Lagerfeld , who says ironically, "The summit of elegance...is the Hawaiian shirt and flip-flops."
Following the outlandish taglines is Amnesty's message: "In addition to being inhumane, torture is ineffective. Let's stop it."
Amnesty International often aligns with musical figures, most recently organizing a benefit concert at Brooklyn, New York's Barclays Center , which featured Imagine Dragons , Blondie , The Fray , Cake and Pussy Riot .
Follow @ABCNewsRadio
Copyright 2014 ABC News Radio
Most of you have seen the image that had been circulating since last week. Here is more about it: http://t.co/WDGhajjsrE

— Iggy Pop (@IggyPop) June 24, 2014